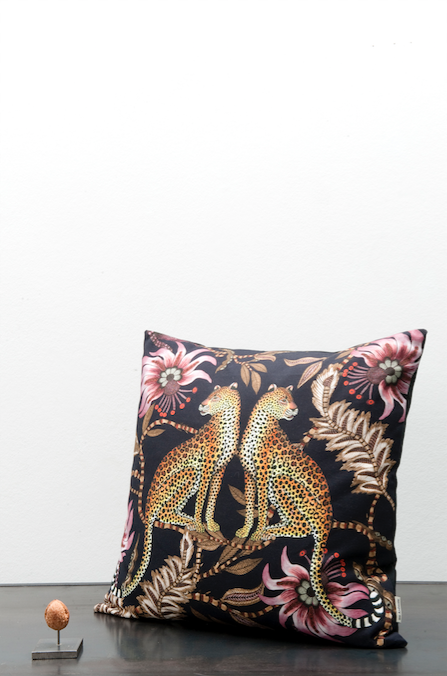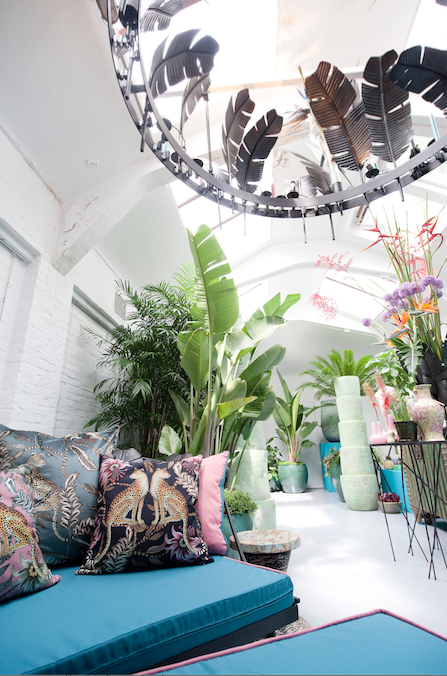 Ardmore Ceramic Art
Ardmore leopard cotton cushion black
Cotton Ardmore cushion with leopard print. The back of the cushion is made of black cotton.
Length 50 cm x Width 50 cm
Weight 1 kg
About Ardmore:
Ardmore Ceramic Art was established by Fée Halsted on Ardmore Farm in the foothills of the Drakensberg Mountains of KwaZulu-Natal, where she lived after obtaining her BA (Fine Arts) Honours degree and lecturing at Natal Technikon. Here she met Bonnie Ntshalintshali, daughter of their housekeeper, whose polio meant that she was unable to work in the fields. Fée and Bonnie quickly developed a synergy and under Fée's mentorship, Bonnie's natural skills as an artist blossomed. Five years later, in 1990, Fée and Bonnie were jointly awarded the prestigious Standard Bank Young Artist Award, the first such artistic partnership to be recognised. With this success came the demands of creating ceramics for their exhibition, so Fée offered other local women the opportunity to train at Ardmore, producing pieces to generate income for the fledgling studio.
In 1996, Fée and her family moved to Springvale Farm in Rosetta in the KZN Midlands, allowing the artists at the Berg Studio in the Champagne Valley to explore their independence. At Springvale she established a smaller studio and gallery, and in 2003, the Bonnie Ntshalintshali Museum was created to honour Fée's co-artist and friend after her tragic death from HIV/AIDS in 1999.
Ardmore's 25th anniversary in 2010 saw the launch of Ardmore Design Collection, which translated Ardmore's distinctive imagery and styling into functional, superb quality ceramic and non-ceramic products including dinnerware, tapestries, furniture, fabrics for soft furnishings, and more. 
The artists from the Ardmore studio are given training, direction, materials, a studio and a guaranteed market for their work, supported by a skilled marketing and administrative team. Over the years, Ardmore's artists have won numerous awards and exhibited widely in South Africa and around the world. Ardmore artworks feature in leading galleries and collections, including the Museum of Art & Design in New York, the Museum of Cultures in Basel, Switzerland, and the Tatham Art Gallery in Pietermaritzburg, South Africa. The acclaimed auction house Christie's has acknowledged Ardmore artworks as "modern day collectibles".